Wichita's Dog Professionals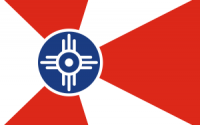 As the top local experts on dog behavior and training, we are thrilled that the Wichita community can benefit from our knowledge. We've served on city boards, donated time and services to local non-profits, and remain committed to improving the lives of dogs and their owners in Wichita.
Our outreach ranges from seminars that help kids and dogs stay safe to partnering with the veterinary community and other local professionals. If you're interested in having a professional trainer speak to your organization, we're the ones to call!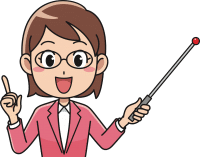 Our head trainer Kathrine Christ is a licensed Family Paws Parent Educator and mother of 4 children and 3 dogs. We help parents navigate these sometimes chaotic years. Attend a seminar we host or request a presentation for a church group or community organization.
Pricing Options
Per-person: $40/couple or $30/individual
Seminar package: $150 (unlimited enrollees)
We don't have any Family Paws seminars on the calendar right now, but if you're interested or would like to arrange a seminar for your group, please email us.
Family Paws® Programs
Dogs & Storks®
Got dogs? Expecting a baby? You need Dogs & Storks®! This 2 hour seminar will cover all of the vital information dog owners need to know to smooth their transition from families with fur-babies to families with dogs and children.
Learn whether or not your dog needs to sniff baby's blanket, what kinds of household changes you may need to make ahead of time, and how to safely introduce your dog to his or her new human sibling. Join us for this fun and educational seminar and you will feel confident and prepared to bring home baby.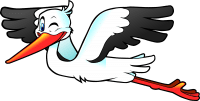 Dogs & Toddlers™
Toddlers and tantrums and terriers, oh my! Fostering a good relationship between dogs and young children depends on lots of hands-on parenting, understanding dog body language, and creating an environment that sets everyone up for success.
In this 2 hour seminar you will learn how to identify potential problem spots in your home, how to teach your child safe touches to dogs, how to communicate better with your dog so you can keep him in his kiddie comfort zone, and more.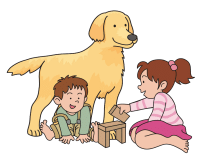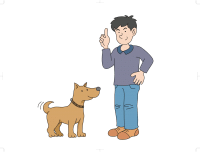 Pricing
Our seminar and staff training rate is $80/hour
Setup, breakdown, and handouts are included at no additional fee. We can provide a projector and screen.
Canine Education Programs
Looking for a speaker to delight and inform your event attendees? We offer fun and interactive topical presentations about dogs & animal behavior.
Our current presentations include:
Welcome Home! Adding a newly adopted dog to your family
Oh, Behave: Why animals do what they do, and how to game the system
Puppy Socialization 101: Raising your puppy to be the best she can be
Family Paws® Parent Education seminars (details above)
We are happy to add additional topics, so get in touch if you have a great idea and need a dog expert.
We offer one-time workshops and multi-session courses to animal rescues, vet clinics, and other pet service businesses on how to train, handle, and manage dog behavior.
Workshop topics include:
Dog Body Language & Communication
Off Leash Group Play Management
Assessing Fear & Aggression
Solving Behavior Problems
Basic Training & Dog Wrangling Skills
Best Practices for Raising Puppies
Our expertise includes all aspects of dog behavior and training, so if you need help with a topic not listed here or want a comprehensive program, we can develop a course for your team at an additional fee.
Would your team know what to do in an emergency?
In this 5.5 hour course, students will learn the latest veterinarian-approved pet First Aid and CPR protocols including:
snout-to-tail wellness and trauma assessment
how to check a dog's vitals
emergency restraining and muzzling
rescue breathing
choking management
fractures, bleeding & shock management
care for heatstroke, frostbite, poisoning, and seizures
handling snakebites and insect bites & stings
senior pet care
Your course fee includes a 40+ page handbook.  Attendees will receive a certificate.
Email Doreen for more information including pricing and scheduling. Pricing is restricted by licensing and is per-attendee rather than hourly.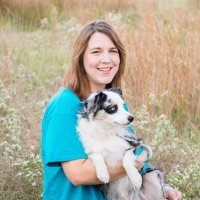 Kathrine Christ
Owner & Head Trainer
International Association of Animal Behavior Consultants
Certified Dog Behavior Consultant
Academy for Dog Trainers
Certificate in Training and Counseling
Fear Free Pets
Certified Fear-Free Professional
Texas A&M University
B.A. Psychology
Professional Experience
14+ years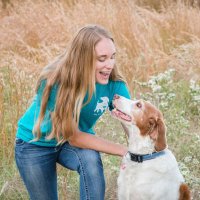 Vanessa Hajek
Lead Trainer
Karen Pryor Academy
Certified Training Partner
Emporia State University
M.S. Experimental Psychology
Academy for Dog Trainers
Graduate
Professional Experience
4+ years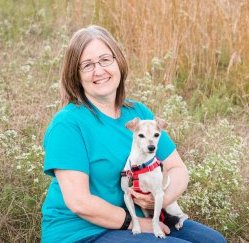 Doreen Hardiman
Assistant Trainer
Animal Behavior College
Certified Dog Trainer
PetTech, Inc. 
Certified PetTech Instructor
Academy for Dog Trainers
Freshman
Professional Experience
5+ years